Lou Williamson Jazz Award
SUBMISSIONS FOR 2023 ARE NOW CLOSED.
The Lou Williamson Scholarship Fund and Victoria Jazz Society are pleased to announce the LOU WILLIAMSON JAZZ AWARD, a $2000 cash award to encourage a talented high school student to continue their music studies in jazz.
Submissions are now closed for 2023. Click "Learn More" below for more details.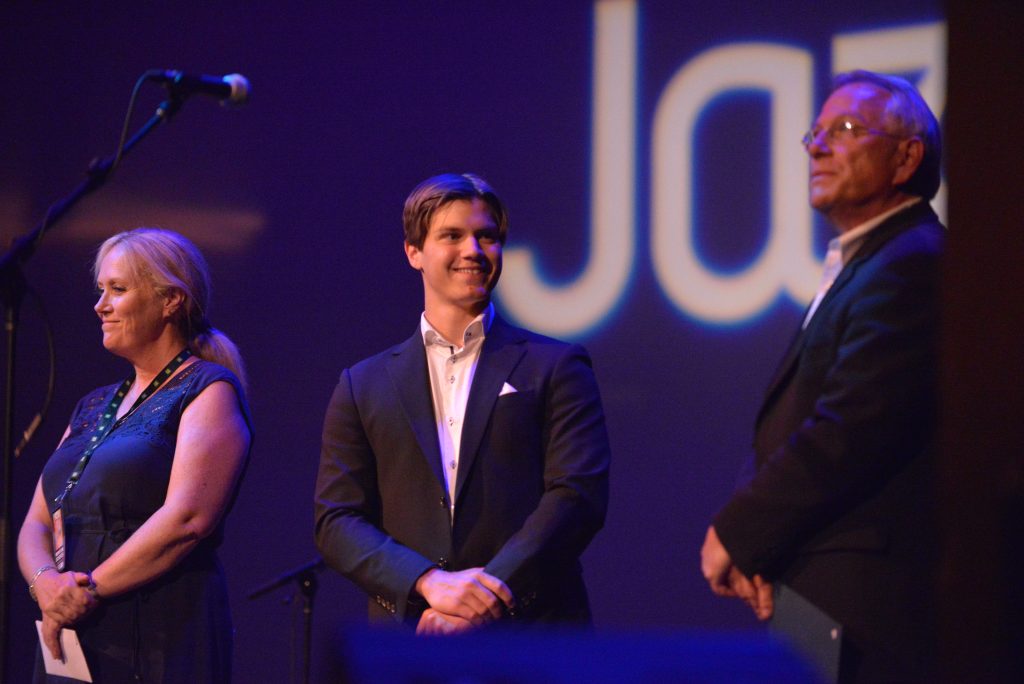 Pictured (left to right) at the Royal Theatre:  Lora McIntosh (Victoria Jazz Society), Cole Ashley (2022 Lou Williamson Jazz Award Recipient), Chris Millington (Lou Williamson Scholarship Fund). Photo taken by TD JazzFest volunteer Richard Hum.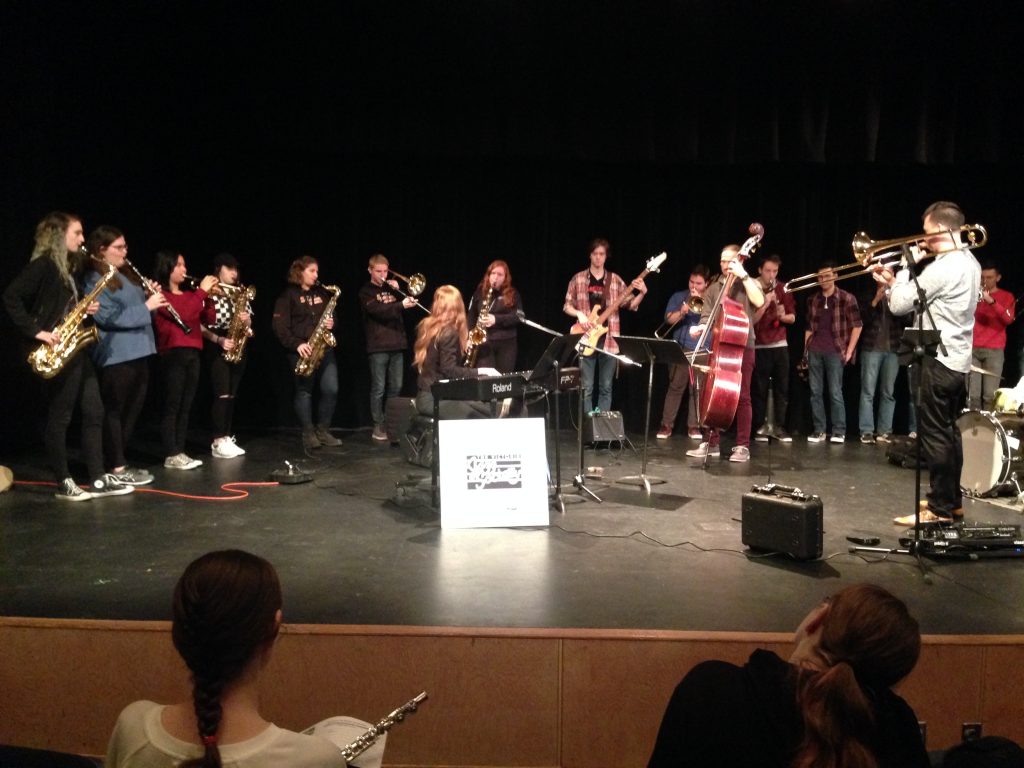 Jazz In The Schools is a community outreach and education program that takes place during the society's Fall/Winter/Spring Concert Presentation Series. This program, originally started in 2009, enhances the music education of Greater Victoria high school students and extends the VJS's community outreach programming beyond what is mandated.
Workshops/Clinic information
The Victoria Jazz Society presents workshop/clinics during both TD Victoria International JazzFest and its Fall/Winter/Spring Presentation Series.
These Workshop/Clinics are hosted by touring musicians for the benefit and development of our local musicians. They are attended by musicians with varying skill levels – from middle and high school music students, to professional performing musicians. These Workshop/Clinics are open to and attended by the general public, and are presented at no charge to all attendees. The VJS believes these programs are instrumental and irreplaceable in the development of our local music students.
The tutoring provided during these clinics not only inspires the young virtuosos by hands-on instruction, but the residual effects in the student's commitment is carried forward in their desire to learn the instrument, music, and the benefits from of practice. It is enlightening for the guest musicians and their pupils to both leave with a converging sense of accomplishment. In the past, artists that have hosted these Workshop/Clinics include Jazz at Lincoln Center Orchestra, MonoNeon, Melissa Aldana, Joshua Redman, Christine and Ingrid Jensen, Larnell Lewis, Christian McBride, Julian Lage, and Nik West. The Victoria Jazz Society is a stakeholder in promoting our young talent and is very proud of the program.
The Victoria Jazz Society Workshop/Clinics are presented with the generous support of Canadian Heritage. The TD Victoria International JazzFest Workshop/Clinics are presented with the generous support of TD.
As part of the Victoria Jazz Society's community outreach programming, registration for these Workshop/Clinics is free! Please contact the VJS Office at 250-388-4423 or email info@jazzvictoria.ca with your name and phone number to register when the programs become available. Space for these Workshop/Clinics are limited and are available on a first-come, first-serve basis, so get your name in early to avoid disappointment!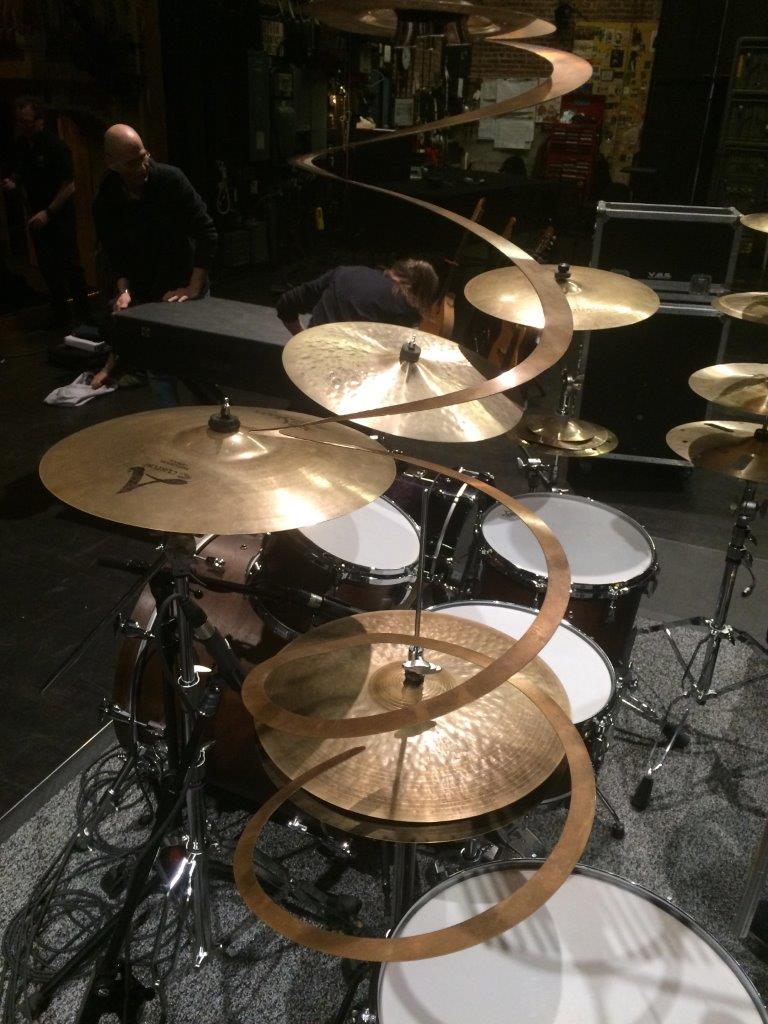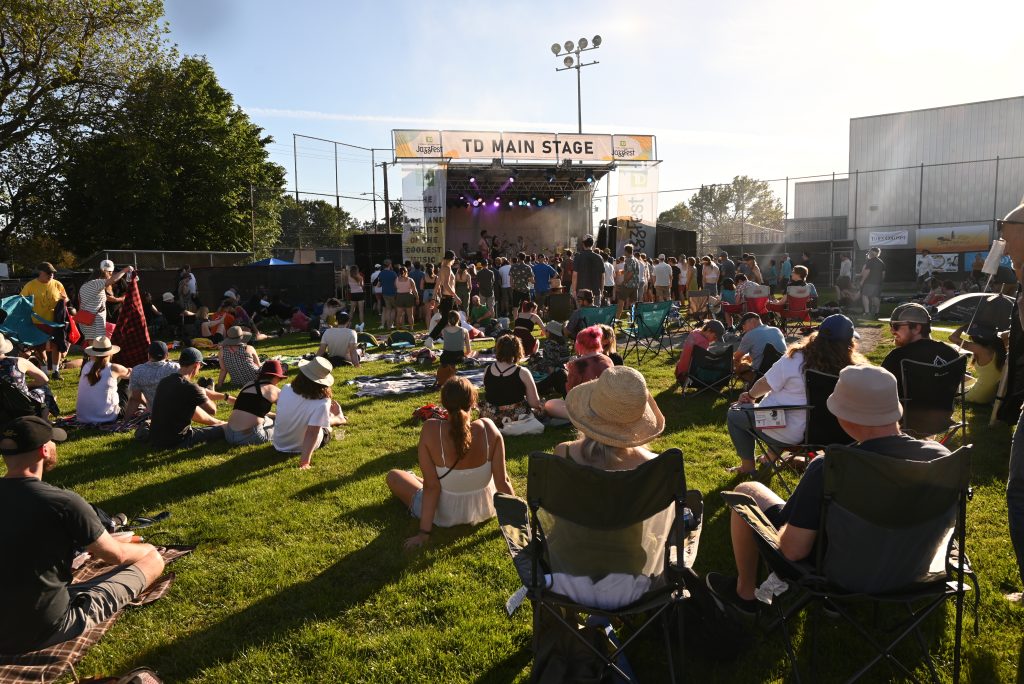 Free to the Public Performances
Annually, the Victoria Jazz Society includes "free to the public," performances by local, national, and international artists in the programming of its two festivals: on the TD Main Stage at the TD Victoria International JazzFest, and on the Ship Point Outdoor Stage at BC Smoke Shop Harbour Blues 'n Roots Festival.
The diverse programming of TD Victoria International JazzFest and BC Smoke Shop Harbour Blues 'n Roots Festival on the "free stages" provide opportunities for music lovers of all ages and income levels to attend performances at both festivals at no cost, enabling a greater exposure to a vast range of music for audiences in Victoria and allowing an appreciation for and love of music to develop for a greater audience.
Each fiscal year, the VJS disperses or discounts a large number of tickets to VJS performances.
The VJS believes that providing students with free or reduced price tickets increases the access for students to the music, and encourages their musical development and helps to build an audience base for future VJS presentations, while aiding in diversifying our existing audience.